Posted by CSR Gyprock on 25 June 2015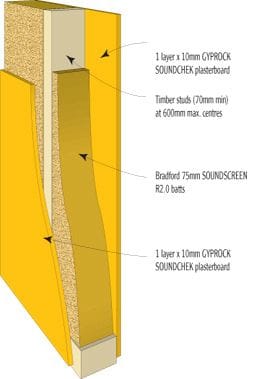 Noise Solutions for your Home
If you are building or extending a home or planning a renovation, think carefully about noise control. Gyprock has designed wall and ceiling products and systems that allow you to control noise transfer within your home and block unwanted noise from outside.
With some basic understanding of building acoustics and careful consideration of the room use and layout of your home or extension, you can quiet zones where you need them and keep noise where it belongs.
Unwanted noise can be an issue in any room in a home but these are the more typical situations that need to be considered:
Homes under flight paths or near busy roads
Between floors of multi-storey homes
Home theatres and entertainment rooms
Other special purpose rooms with high noise levels
Rooms adjoining kitchens, laundries & garages
Large open plan areas
Rooms with a high level of hard floor coverings
Gyprock Acoustic Plasterboard
Standard Gyprock Plasterboard is the recommended internal lining for residential homes. Our range of residential specialty boards that offer increased acoustic performance are:
Gyprock Soundchek
Soundchek is a high density recessed edge plasterboard that is available as a 10mm plasterboard for standard residential construction and 13mm for acoustic rated commercial applications and high performance residential requirements.
Gyprock Superchek
Superchek is part of Gyprock's environmental range. It is a premium, high recycled content 10mm plasterboard manufactured with a denser core and heavy duty facing material. Superchek has excellent acoustic insulation properties, higher levels of impact and scuff resistance and superior environmental credentials.
Gyprock Supaceil
Supaceil is Gyprock's recommended plasterboard lining for ceilings. It has a specially designed core which gives it improved acoustic performance and sag resistance.